Diamond Inn - Inglewood
33.93127

,

-118.33821
Inglewood

,

United States

|
140US$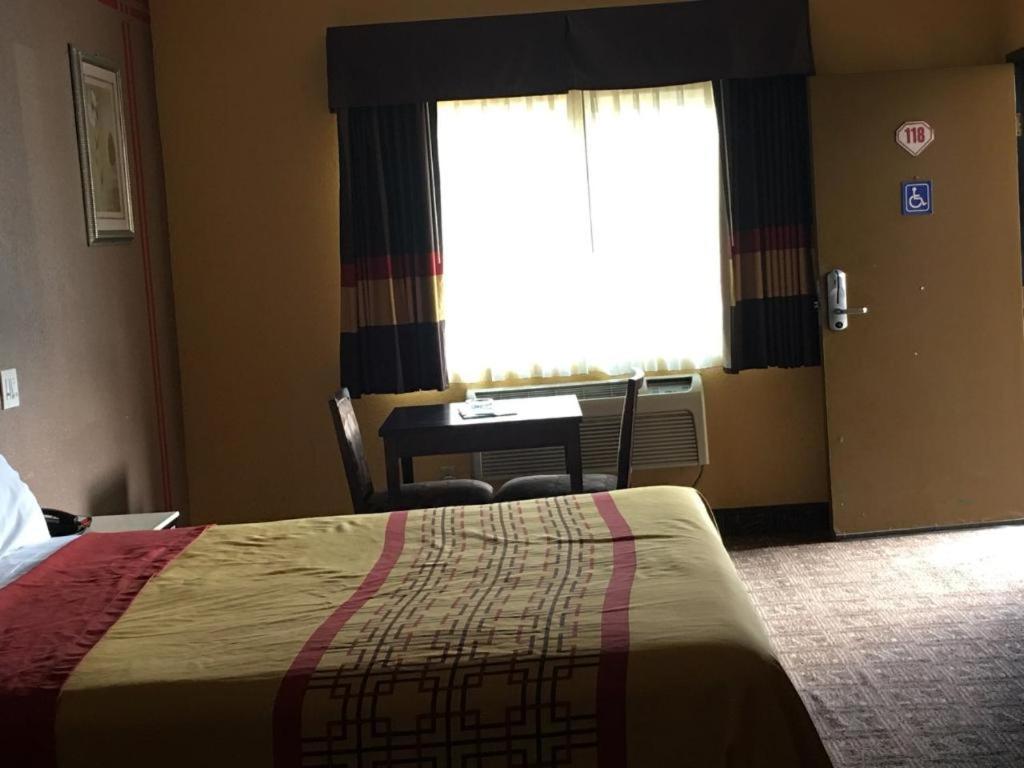 Address
3735 West Imperial Highway
,
Inglewood
,
California
,
United States
, California
Overview
Location
The hotel boasts a convenient setting within proximity to Beach Boys Historic Landmark Monument. The accommodation is also placed about 10 minutes by foot from Crenshaw Imperial Plaza Shopping Center. Greater Emmanuel Missionary Baptist Church is a few minutes away.
Los Angeles International airport is about 0.5 miles from Diamond Inn.
Rooms
There are non-smoking rooms at this property, some of them come with radio and include private bathrooms fitted with a spa bathtub and a separate toilet.
Eat & Drink
Jolly Roger is a 5-minute walk away.
Internet
Wireless internet is available in the entire hotel for free.
Guest Parking
Paid Public parking is possible on site.
Number of rooms:   41.
Facilities
General
Wi-Fi
Parking
24-hour services
Sports activities
No pets allowed
Air conditioning
No Smoking
Room features
Air conditioning
Heating
Sitting area
Good to know
Check-in
from 15:00-23:59
FREE
Check-out
until 11 am
FREE
Children & extra beds
There are no cribs provided in a room. 
Pets
Pets are not allowed.
Rooms and availability

Bed options:

Max:

4 persons

Bed options:

Max:

2 persons
City view

Heating

Air conditioning

Bed options:

Max:

2 persons
City view

Heating

Air conditioning
Location
3735 West Imperial Highway
,
Inglewood
,
California
,
United States
, California
City landmarks
Nearby
Restaurants
Casino
Hollywood Park Casino
1.3 mi
3901 W El Segundo Blvd
Hawthorne Memorial Park
1.4 mi
3883 W Century Blvd At Hollywood Park Casino
Off Track Betting at Hollywood Park
1.3 mi
13220 Van Ness Ave
Rowley Memorial Park
1.8 mi
Los Angeles Air Force Base
2.5 mi
3850 Manhattan Beach Blvd
Museum
Automobile Driving Museum
3.1 mi
Laguna Dominguez Trail
2.9 mi
Church
The South Bay Wedding Center
2.9 mi
3701 W 119th St
Beach Boys Monument
900 ft
3701 W 119th St
Beach Boys Historic Landmark
900 ft
Restaurant
Ricos Tacos El Tio
3300 ft
Getting around
Airports
Los Angeles International

(LAX)
4.9 mi
Metro stations
Wilshire / Western Station
9.2 mi
Wilshire / Normandie Station
9.3 mi
You can book a shuttle, once your reservation is complete.
Reviews
Seth

Great place for exploring Inglewood. We appreciated staff and rooms here.

Max

planned to see inglewood major attractions and it was nice comfy base for visiting all of them. it offers good prices.

Living on a noisy street.

missing

Good location, close to LAX and freeways. Friendly and helpful staff. Spacious room with good facilities at a bargain price.

missing

Although they claim that they have internet in fact just few rooms get the signal- very disappoting

No working internet

missing

The Diamond Inn was clean and I had no problems with the safety of my belongings. I think this is a really good place to stay. The area and location isn't the best however I had no problems. I'm a White European and the racial makeup of Inglewood is over 90% African and Mexican. If you are going to stay here I would recommend getting a rental car. The Diamond Inn is close to the Airport. I got a shuttle from LAX for $12 on arrival and on Departure caught a bus ($1.50) and then the free airport shuttle which goes to all terminals. That cost be $1.50 as well which was a bit strange as i thought it was free. I think I will stay here again and were happy with my stay.

The location isn't the best but for the price I aren't going to complain. Diamond Inn is a good place. People are nice and friendly.

missing

This was a very good value for money accommodation, I stayed at the westin and Sheraton as well in the same area and the diamond was much better value and the manager was very helpful in organizing tours and pick ups, included Internet too.

missing

Very friendly and comfortable. The staff was attentive and friendly...The space was accommodating....

Noting is close to shop or eat....not much to view or to do...

missing

We like staying at Diamond Inn,It was close to Universal Studios and the guy at the reception was really helpful, We definitaly will go back to this hotel again.

missing

Highly recommended !! The manager and his wife were very friendly. I would stay here next time we visit LA.

missing

Clean, big room, very fliendly staff. Good ratio price vs value. Close to airport, accessible by car. I would return if needed accomodation close to the LA airport.

Everything went well.

missing

I stayed in LA for 5 days and during that time I slept in Venice beach and Anaheim sPending only the last night at the diamond inn mainly due to price and location near the airport. What a mistake I'd made for the first few nights.... You always have to have a car in LA and with that the diamond inn is the obvious choice!!! I spent more than 3 times the price of this hotel on a closer to the beach one... Diamond Inn had MUCH bigger rooms, better parking and the staff that checked me in at 1' in the morning couldn't be nicer! If you're going to visit LA and you're gonna get a rental car for your daily commute then the diamond inn can't be beaten!! Hands down the best price per comfort in the LA area.

missing

Hospitality of the staff was great! Tony helped with confirming and processing my reservation. He was very informative about local places to eat. I would stay here again and also use the service of Booked.net. Thanks so much!

Everything was great!

missing

They stocked up the towels so when we would come back from our trips we didn't have to worry about or towels. had HBO didn't know how to use it but we had it.

I didn't like that you had to pay for ice. Our friends stayed at a a different hotel not far from ours n we would goand get free ice there for our trip.

missing

Staff were very friendly, gave us the choice of 2 rooms. The room was very big with a flat screen telly, fridge and microwave and massive bathroom. Very impressed as this was the cheapest hotel we found near the airport.

missing

Large room, sitting area / table... Comfortable bed. The staff was great and very helpful. I had to call the front desk at 3am with a special request, and Tony was very helpful with the request.
FAQ
Which landmarks should we visit during our stay in the 2-star Diamond Inn?
You can always visit one of the highly rated landmarks, Bicentennial Park, placed 2 miles away from the 2-star Diamond Inn. Other sights that are worth your while are the non - flying US Los Angeles Air Force Base (2.1 miles) as well as Crenshaw Imperial Plaza Shopping Center (0.5 miles).
Which landmarks are closest to the Diamond?
Staying at the Diamond, guests will have a chance to visit Beach Boys Historic Landmark Memorial located just 5 minutes' walk from the property, and attend the closeby attractions, Greater Emmanuel Missionary Baptist Church (0.2 miles) and Beach Boys Monument (0.3 miles).
What is the closest airport to Diamond Inn Inglewood?
Los Angeles International airport lies within 0.5 miles of Diamond Inn Inglewood and is reachable with a 10-minute drive.
Does the 2-star Diamond Inn have parking on site?
Yes, guests of the 2-star Diamond Inn can leave their car in parking lot onsite.
At what time can I check-in at the hotel?
At the hotel you can check in from 3 PM till 11.59 PM.
At what time can I check-out at the Inglewood inn?
You can check out of the Inglewood inn from 11 AM till 11 AM.
How much does a room at the 2-star Diamond Inn Inglewood cost?
The prices at the 2-star Diamond Inn Inglewood start from $80.
What payment methods are accepted in the 2-star Diamond?
At the 2-star Diamond guests can pay using American Express, Visa and Mastercard as well as other payment methods.
Is there free internet in the 2-star Diamond Inn?
Yes, at the 2-star Diamond Inn Wi-Fi is provided free.
Can we annul our booking in the inn?
The inn offers free cancellation.
Which leisure facilities are provided at the 2-star Diamond Inn?
You can enjoy a golf course and entertainment activities available in the 2-star Diamond Inn.